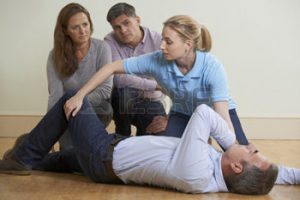 First Aid  Accredited by Qualsafe Awards
First aid training is something we are passionate about and believe that all persons should have access to.
You will learn new skills and be able to promote a safer environment both at work, home and any sports or hobbies.
Courses
Level 3 Award in First Aid at Work (QCF)
Level 2 Award in Emergency First aid at Work (QCF)
Level 3 Award in Paediatric First Aid (QCF)
Level 3 Award In Emergency Paediatric (QCF)
Level 2 Award in Basic Life Support and Safe Use of an Automated External Defibrillator (QCF)
Level 2 Award in Basic Life Support and Management of Anaphylaxis (QCF)
Level 2 Award in Cardiopulmonary Resuscitation and Automated Externial Defibrillation (QCF)
Level 2 Award in Activity First Aid (QCF)
First Aid at Work Annual Refresher (QAR)
Safe use of an Automated Externial Defibrillator (QAR)
Manual Handling Training
Manual handling is very important to stay safe from skeletal injuries.
Staff are your main asset and their welfare is important, so when sitting to moving heavy items injury can occour. This course is structured to show good posture when moving and lifting.
The Course is Registered with Emergency First Response.
This course is both Practical and Theory so loose clothing is advisable.
On course completion a certificate will be issued
Driver assessments Lgv & Vehicle and Trailer.
Driving assessments are a very practical way of reducing both fuel costs and vehicle damage. These assessments are carried out in cab up to 4 hours and where necessary at work, so a true indication of skills will be apparent. A written report is produced inline with highway code and DVSA skills.